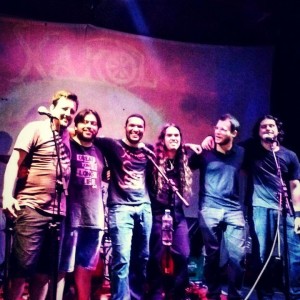 Last January 29th, singer Saulo Castilho's project XAKOL performed for the first time with their new lineup. The highlight was the debut of guitarist André Freitas. André, who has been a professional musician, songwriter and guitar teacher for more than 10 years, was also a member of the bands ST3 and The Search 7, besides playing with artists like Marcus Salles and Joe Vasconcellos.
Now the project has the following fixed line-up for live concerts: Saulo "Xakol" Castilho (vocals), Rafael Azevedo (guitar), André Freitas (guitar), Gil Lima (drums), Daniel Schlemper (keyboards) and Thiago Moser (bass).
Two albums are also being recorded, both of which will be released by MS Metal Records and will feature famous Brazilian musicians as special guests, such as Bruno Sutter (Detonator, Massacration), Marcelo Moreira (Circle II Circle, ex-Almah), Rafael Pensado (Mindflow), besides production by Edu Falaschi (Almah, ex-Angra) in one of the albums.
Source: http://www.msmetalagencybrasil.com/ptbr/xakol-projeto-de-saulo-castilho-anuncia-nova-formacao-para-apresentacoes-ao-vivo/