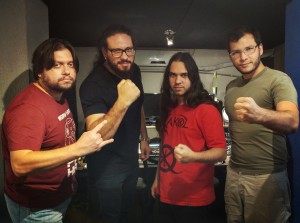 After a week of confinement at Estúdio Beretta, in Florianópolis, we would like to announce that we have finished recording our two first singles: Rise of a New Sun and Metal for Demons. Both songs are now respectively being mixed and mastered.
Rise of a New Sun is expected to be released digitally through MS Metal Records and CD Baby between the end of April and the beginning of May, whereas we are still waiting for Metal for Demon's artwork to estimate its release date.
Besides these two songs, our debut album will have 6 more tracks, whose recordings are almost finished.