It's just the beginning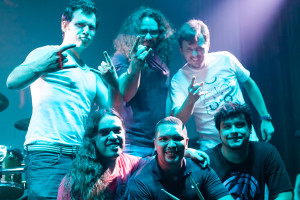 I would like to thank this incredible team for the last concert, and also thank all my friends that were there to give me an awesome birthday present with their presence! It was an honor to share the stage with these talented musicians and great friends of mine, who make me believe more and more in my work and who filled me with confidence that this is just the first of many gigs that will come when the albums are released. From left to right, top: Rafael Azevedo (guitarist), Ivan Beretta (keyboardist and producer), Daniel Schlemper (keyboardist); bottom: me, Gil Lima (drummer) and Thiago Moser (bassist). Photo by Thiago Rocha.
This is not the end, it's just the beginning!