Rocking Birthday 2017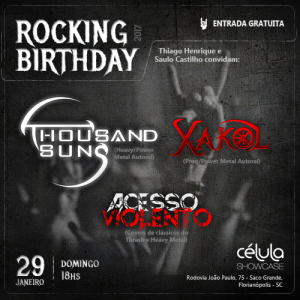 Another edition of Rocking Birthday is confirmed!
We will be once again performing at Célula Showcase, Florianópolis in the last weekend of January, this time with the bands Thousand Suns and Acesso Violento.
This will be our first concert with guitarrist André Freitas in our fixed lineup.
Entrance is free!
Date: Jan 29th 2017
Time: 6 PM
Venue: Célula Showcase, Rodovia João Paulo, 75 – Saco Grande, Florianópolis – SC
Price: free!

News